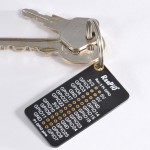 The rest of this page is left as is for historical accuracy…
RasPiO® Port Labels Board
The RasPiO® port labels board slips over the main GPIO header of the Raspberry Pi® to show you which port is which. On one side it has the GPIO numbers and on the other side it has the alternative functions. The RasPiO® port labels board is available for revision 2 Raspberry Pi.

On or Off Pi
You can use it on the Pi, but you don't have to. You can also just use it as a wiring reference guide. Here's a closer look at both sides of the board. The text is large, clear and easy to read.

A Handsome Key Fob
You can even use it as a key fob if you want…

How Much and Where?
£2 + £1 global shipping, right here…
Sorry – this product is now end of life. Please visit the RasPiO Portsplus page for the latest version
What's It Made Of?
It's a black printed circuit board (PCB) with gold plated through-holes and no electrical connections.
Who Designed It?
The RasPiO® range is designed by Alex Eames of RasPi.TV
_______________________________________________
RasPiO® is a trademark of Alex Eames
Raspberry Pi® is a trademark of the Raspberry Pi Foundation