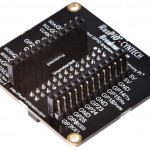 RasPiO® Breakout Pro Now Replaced By Pro Hat
The RasPiO® Breakout Pro is now end of life. We've sold all our stock. It's been replaced with the RasPiO® Pro Hat, which is currently funding on KickStarter…
---
The rest of this page is left intact for historical reasons…
Your Ports Are Protected
RasPiO® Breakout Pro protects your Raspberry Pi's GPIO ports from damage in case you make a wiring error. Each GPIO port has its own protection circuit…
These surface mount components are factory fitted, but you still get to choose which headers you want to solder on, to make it your own.
RasPiO® Breakout Pro also allows you to connect pretty much any kind of wire to any GPIO pin on the Raspberry Pi®'s main header.
Less Chance of Wiring Errors
RasPiO® Breakout Pro also reduces the chances of wiring errors because you can clearly see which pin corresponds to which port. You don't need to consult a pinout chart or count "X pins up from the bottom-right pin". This means your circuits are more likely to work first time and you're less likely to damage your Pi or attached electronics.
Large, Clear Labels
I'm 44, and although I can still read the small writing on most PCBs, it's easier and much more comfortable when the fonts are a little larger. So I've designed the board that I wanted to use. If the labels are unmistakably clear, you're much less likely to make a wiring error too.
Alt Functions Too
RasPiO® Breakout Pro shows both GPIO numbers and alternative functions of the P1 header pins. The board needed to be a little bigger to fit the extra labels on, but I think it's worth it. It's good to have all the information in front of you when choosing which ports to use.
Compatible with Rev 1 and Rev 2 Pi
RasPiO® Breakout Pro has labels for both Rev 1 and Rev 2 Raspberry Pi. There's also a little 'aide memoire', at the bottom-left of the board, to show the differences.
Attach Any Header You Like
If you put a row of pins on the outside and a row of sockets on the inside, like this, it's very versatile. These are the standard headers supplied with RasPiO® Breakout Pro…
This means you can use jumper wires with either male or female ends to make connections. You don't need to look for a specific type of wire.
Central Connector Options
For the central connector, you can use a standard female 26-way connector, a male pin header and ribbon cable, or a stacking header that combines both options.
RasPiO® Breakout Pro is supplied with a standard female socket header. But you may choose to assemble it differently. I'll show you some other options below.
Optional Direct Access to Ports too
If you choose to use a stacking header (available as an extra), you can have both protected and unprotected access to the ports. If you want to bypass the protection for some reason, this can be useful. But if you don't want to enable that, just use the standard header provided.
Outer Header Options
You could even add screw terminal headers if you really like them (although it covers both sets of holes)…
…or just choose one header for now and leave a set of holes for future use.
Use With PiBow or Other Cases
With a ribbon cable*, you can use RasPiO® Breakout Pro to access the GPIO pins even with the Pi fully cased…
* for attachment underneath, the ribbon cable needs to have an IDC male connector at one end to avoid reversing the pinouts.
You Can Even Use It 'Off-Pi'
RasPiO® Breakout Pro also has mounting holes. So you could use it with a ribbon cable and mount it somewhere not on the Pi. I expect most people would prefer to mount it on the Pi, but you have the choice.
Use With LEDs, Motors etc.
When using RasPiO® Breakout Pro with LEDs you don't need additional resistors in the circuit because each port
already has a 330 Ohm resistor protecting it. This is explained a bit more in the video, which also shows use with motors.
How Much and Where Can I Buy One?
This board is now End Of Life and replaced by the RasPiO® Pro Hat
If You Don't Want Port Protection
RasPiO® Breakout Pro has onboard port protection. If you don't want or need that, you might be better off with the RasPiO® Breakout, which is a slightly smaller version of the same board without the port protection circuitry.
If You Want Just Port Labelling
You can use the RasPiO® Breakout Pro bare board as a port identification aid, but if you want to do that, you'll probably be better off with the RasPiO® Port Labels Board, which is designed with that use in mind.
How Does RasPiO® Breakout Pro Work?
This two minute video explains how the RasPiO® Breakout Pro works to protect your Raspberry Pi

RasPiO® Breakout Pro Build Instructions
Solder the main central 26-way female header underneath first. It should go on the same side as the surface mount components, but you solder it from the other side.
Next solder the inner (female) headers on top. (Solder one pin, then straighten it and do the rest. Using a sponge for support helps keep things in place.)
Then solder the outer (male) headers on top.
Have a good look at your soldering and ensure you haven't shorted any pins together. Ideally you should test all adjacent ports with a multimeter in resistance mode.
You may choose to vary how you assemble the RasPiO® Breakout Pro according to your personal preference.
Download the RasPiO® Breakout Pro assembly instruction leaflet (printable PDF).
Step By Step Build Photo Sequence
This slideshow requires JavaScript.
What's in the Kit and How Do I Put it Together?
This video shows you what's in the kit and gives some helpful tips on how to solder it together…

Photo Gallery
This slideshow requires JavaScript.
RasPiO® Breakout Pro Python Programs
Some simple Python scripts to test the GPIO ports can be found at
https://github.com/raspitv/raspio-breakout-pro
Action demo video | Build instructions | How it works video | Kit contents and soldering video | Python software
Download the RasPiO® Breakout Pro assembly instruction leaflet (printable PDF).
_______________________________________________
RasPiO® is a trademark of Alex Eames
Raspberry Pi® is a trademark of the Raspberry Pi Foundation